Finding an internship is always challenging because the competition is fierce, and one must provide more than academic merits alone. Starting with the presence of soft skills to additional training that you have been through, your chances will always vary, depending on what you provide. There are many organizations in the United States and beyond that have foreign branches where multilingual students are in-demand, so one must focus on additional skills and academic experience. Always take your time to determine where you can express yourself the best way possible and be a unique fit for the company or organization in question.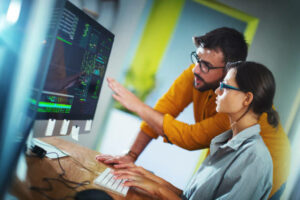 5 Essential Internship Tips For Students
Focus on Your Communication Skills.
This is one of the most important things to do when looking for an internship. Knowing how to get your message across represents the heart of any successful cooperation. Start with a list of your ideas and work on your social profile. Remembering that effective communication is important for students, you may approach online blogging or workshops dealing with your subject. It will help remove various mental blocks and make you feel more confident before your internship starts.
2. Learn More About Future Career Requirements.
Take your time to learn what skills and experiences are required to meet your future career. Talk to the specialists in your field and see online ads for related jobs. For example, dealing with logistics, you should focus on supply chain management, tracking, and automation methods by exploring the latest innovations. Once you have the basic knowledge, your chances of getting employed will increase.
3. Meet Your Coworkers.
Take your time to meet your colleagues and establish good networking skills. Although many of them may even act hostile and cold, do not let it get to you and do your job by remaining flexible and following the standards. While some people will be strict, their role is to let you feel all the job's complexity as you become used to various challenges and learn where certain deviations can occur.
4. Learn to Listen.
Listening is the key to every positive internship experience! The purpose is to become immersed in a new environment and see all the differences between the theoretical framework and the practical side of things. Be ready for unexpected changes as organizations follow their internal rules and practices, which may be rare or obsolete elsewhere. Don't be afraid to ask questions and seek advice because those who ask show their confidence to learn.
5. The Art of Taking Notes.
Internships are meant to help college students apply theoretical knowledge in practice. Since there will be a lot of data that must be processed, learn to take notes by using either a notepad or a voice recorded on your phone. It will help when you need to compose a reflection paper dealing with your experience. If you're stuck with the challenge, see write paper for me reviews online and find one service that meets your requirements. Don't forget that good writing skills and unique content always increase your chances of getting noticed!
Create a Resume That Reflects Your Best Skills
Modern students often ignore this aspect, as they hope that a personal interview with 2-3 internship recommendation letters will be sufficient. As a result, they provide their academic transitions, grade book, or basic information about their learning progress. It makes such an internship candidate look just like any other person. When there is an accurate resume with a description of social work, volunteering, or any specific experience, it works as a presentation for an individual. It inspires HR managers to get in touch. It might take time to create a resume, yet it will always pay off with a successful internship experience.
BIO
As an experienced writer who likes to share her skills and knowledge, Joanne constantly explores the most efficient solutions dealing with education, logistics, business marketing, and technology. Joanne always tries to make things more accessible for everyone when there is a complex subject. Follow Joanne to get inspired and take your ideas to another level.