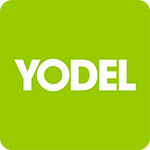 Combination of 18 alphanumeric characters,Starting with 2 alphabets, following by 16 digits (e.g. TD 000 000 000 000 000 0).
 Call [+44] 0800-0152-662.
What are the hours of delivery?
Monday to Sunday
7 AM to 9 PM
Yodel tracking number
Tracking numbers are similar to JD0002210160195973, 8AF710004557A002, 8999R04098251. Yodel Direct tracking numbers look like YOL1522927
What Yodel tracking status means
With Sender or Awaiting Collection
Left Sender or Collected
At Yodel Depot
Left Yodel Depot
With Courier/Driver
Was with Courier/Driver
Delivered
Yodel tracking statuses
Status
Description
Your parcel will be with us soon
Your parcel is at our sort centre
Your parcel has arrived at your local depot
We tried to deliver your parcel but it was refused at the door. Please contact the sender with any queries
Your parcel has been returned to your sender. Please contact them with any queries
Your parcel is with one of our drivers for delivery
Your parcel has been delivered
Thank you for collecting your parcel from us.
FAQs
How to track a parcel
Find a Collect+ delivered by Yodel store
How do I get the collection code to collect my parcel?
How long will it take to deliver my parcel?
What can I send using Collect+ delivered by Yodel?
eBay Click & Collect Service
I visited the store and could not collect my parcel
What size and weight parcel can I send with Collect+ delivered by Yodel?
What should I do if my parcel is lost or damaged?