What is USPS?
The United States Postal Service is an independent agency of the executive branch of the United States federal government responsible for providing postal service in the United States, including its insular areas and associated states. Wikipedia
What is USPS Tracking
USPS Tracking is a method for you to make assured that your most important Parcel make it to their final addresses. The US Postal Service can tell you the date, time and zip code where your item was delivered, giving you calm of mind.
How to Track USPS Parcel Online?
Navigate to 

https://parceltracking.info/usps-tracking/

.

Enter the 

USPS tracking

 number (to find it, simply look at the bottom of a shipping label) in the search bar; do not include any dashes or spaces.

Click on "Check Status".

View the scan history and status information of your 

package

.
Can I call USPS to track my package?
You may call this phone number to obtain additional information on USPS Text Tracking: 1-800-222-1811.
What is USPS Tracking Number Format By Parcel Tracking
USPS tracking number format is 20 digits (9999 9999 9999 9999 9999), or a mixture of 13 alphanumeric characters, usually beginning with 2 alphabets, following by 9 digits, and closing by "US" (e.g. EA 999 999 999 US). Here is all Example of USPS Tracking Number Formats.
How many digits is the USPS tracking number?
The tracking number of USPS is an individual 20 – 22 digit long, there are no characters in it. Below you can see the samples of a tracking number. The tracking numbers of USPS Express Mail are 13 characters large, begin with two letters, and end with "US"
What does my tracking number look like?
Your USPS Tracking Look Like Following.
USPS Tracking Number Service / Sample Number
USPS Tracking® 9400 1000 0000 0000 0000 00
Priority Mail® 9205 5000 0000 0000 0000 00
Certified Mail® 9407 3000 0000 0000 0000 00
Collect On Delivery Hold For Pickup 9303 3000 0000 0000 0000 00
Global Express Guaranteed® 82 000 000 00
USPS Tracking Number Service / Sample Number
Priority Mail Express International® EC 000 000 000 US
Priority Mail Express® 9270 1000 0000 0000 0000 00
EA 000 000 000 US
Priority Mail International® CP 000 000 000 US
Registered Mail™ 9208 8000 0000 0000 0000 00
Signature Confirmation™ 9202 1000 0000 0000 0000 00
Where Is The Tracking Number On USPS Receipt
You can find your USPS tracking number printed at the bottom of your sales receipt. Look on your insurance receipt
Where is my package USPS tracking?
Your tracking number can be seen in the following places:
Your Post Office™ shipping receipt. Your purchases receipt if you purchased insurance at the Post Office™ Your email verification if you shipped from USPS.com.
How can I leave delivery instructions?
If a Parcel qualifies for the USPS Delivery Instructions™ service, you can tell USPS where to leave a parcel at your address, send it to a separate address, or send it to your Post Office.
Click Change Delivery Instructions on the tracking outcomes page to leave your request. If you do not see the Change Delivery Instructions link, your package is not available for the Delivery Instructions service.
No "Delivery Instructions" Link
There are many causes a package may not be available for Delivery Instructions.
Ineligible packages may have:
Already left the Post Office for delivery

A Hold Mail request

A Forward Mail request

A military (APO/FPO) or DPO address

An international sender

A Delivery Signature request

A Collect on Delivery (COD) request

An active USPS Package Intercept® order

Insurance for $500 or more
USPS Tracking Customer Service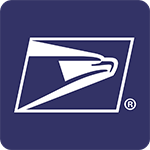 Call [+1] 800-275-8777.
Why there are no tracking histories of my Package shipment?
The most frequent cause is wrongly typed tracking number. It is recommended to check with the sender if you are not sure what the tracking number is. Additionally, it may take some time (normally up to 24 hours) for a new cargo to show up in the system.
What are the hours of delivery?
Monday to Sunday
7 AM to 9 PM
| Common Carrier Tracking Information | Contact Information |
| --- | --- |
| UPS | Phone: 1-800-742-5877 |
| U.S. Postal Service | Phone: 1-800-222-1811 |
| Amazon Logistics (AMZL_US) | About Deliveries by Amazon Logistics |
| FedEx | Phone: 1-800-463-3339 |
| DHL Express | Phone: 1-800-225-5345 |
If you have any other tracking company Please track Here.
Track USPS parcel Without Tracking Number
Look on your insurance receipt
Check your email for a confirmation from Welcome | USPS
Check your email for a shipping confirmation from an online retailer
Examine the bottom peel-off portion of a USPS tracking label
Flip over the orange slip you received if you missed a delivery
USPS Tracking Company
You can also find Zip Code of any USA city here
Does USPS have live tracking?
USPS® package tracking is automatically included with all USPS domestic shipping products with the exception of commercial Standard Mail packages (tracking feature can be added for an extra fee). Your package is scanned up to 13 times throughout its journey, starting at the postal facility.
Usps Tracking Statuses Usps Tracking Mobile Usps Tracking Phone Number Why Hasnt My Usps Tracking Updated Usps Tracking Not Updating Usps Tracking India What Do Usps Tracking Numbers Mean Usps Tracking vs Usps Tracking Electronic What Do Usps Tracking Numbers Mean Amazon Tracking Why Hasn't My Usps Tracking Updated UPS Tracking Us Post Traking China Post Tracking Usps Tracking Not Updating FedEx Tracking Epacket Tracking Post Office Hours Usps Tracking Download Track Your Order Held at Delivery Depot/Delivery Office Speedpak Tracking Tracktrace Usps Priority Mail International Isnoop Dhl Map Tracking Usps UK Track Online Track UPS Speed Post Delivery Time Trackingmore Usps Usps Tracking Number Expiration Usps Tracking Reviews 26 Digit Usps Tracking Number