It can be frustrating to wait for a package, but you must know where it is. This guide will help you track every step of your USPS package. You want to know when your USPS package will arrive. Just Track Your Parcel Live Status.
What items can be tracked by USPS?
Not all USPS services include parcel tracking, whether you're sending an envelope or a parcel. Some USPS services cost extra for tracking, such as the commercial mailing service USPS Marketing Mail.
Here are the services that include USPS package tracking:
Priority Mail 

Priority Mail Express

First-Class Package Service

USPS Retail Ground (tracking for packages only)

Media Mail (tracking for packages only)
How to Find Your USPS Tracking Number
You can find your USPS parcel tracking number at the following location 
on the Sales receipt received from the USPS office

The sales receipt from the Self-service kiosk 

The online record of you purchased item

From insurance document 

From your parcel confirmation email

At the bottom of your USPS tracking label.

Check Official Website
USPS Tracking Number Formats
9400 1000 0000 0000 0000 00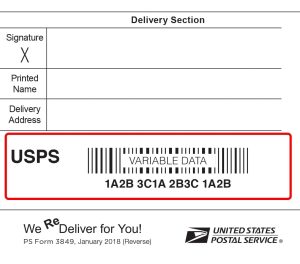 How to Track a Package Without a Tracking Number USPS
You can follow several steps if you need to track USPS packages, but you lost your tracking number.
Contact the sender: You can contact the sender to get the tracking number. You may be able to find it, or they might have it.

You should check your email. The tracking number might be in the email if you were emailed a confirmation or receipt.

You should check your mailbox. If you received the package using USPS, the sender might have included a tracking code on the shipping label. You should check your mailbox and any other place where the package may be stored.

Visit your local USPS Office: If none of the above work, go to your local USPS Office and ask them if they can help locate the package. You should bring all relevant information, such as the address and sender, date of delivery, and any other information.
Tracking a package with no tracking number is possible, but it can be difficult and sometimes impossible. Keep track of your tracking number if you need them to locate a package later.
How to Create Informed Delivery – Mail & Package Notifications
The best way to track a parcel without a tracking number is to create a USPS Informed Delivery Account. In this account, you can track or view your parcel digitally and manage your delivery times. And it's completely free.
Sign Up
 for Informed Delivery
1 Create Your Account
Use your personal USPS.com account or sign up for one today.
2 Verify Your Identity
Protect your privacy and personal information by verifying your identity and address.
3 Watch for Updates
Look for mail and package updates via email, the online dashboard, or the USPS Mobile® app.
How to Make a USPS Lost Package Claim
Here are some steps to take if you think your package has been lost:
Visit  

Find Missing Mail

 on USPS.com.

Submit a Missing Mail search request at 

MissingMail.USPS.com

. 

File a claim if you have insured the package.

Filling a missing parcel report in your post office 
USPS Tracking FAQs
Can You Track a USPS Package by Address?
Yes with the help of Informed Delivery service
Can You Track a Package by Name?
No