USPS Liteblue EPayroll Login is a web-based software available to United States Postal Service workers. This online portal offers USPS staff a suitable and secure way of viewing their earnings statements published every two weeks. Because this is an online service, it is open around the clock.
USPS LiteBlue ePayroll
In addition to viewing their payslips online, USPS staff can use this portal to print out their earning statements and access the past payslips database, which goes back 40 payment cycles. Moreover, USPS workers can use this service to change their statement preferences and choose between paper and paperless versions.
USPS LiteBlue ePayroll Login
To log into your USPS online payroll profile, you will require to use the company's payroll platform. To do this, open your browser and go to https://epayroll.usps.gov/ePayroll/user/home.
The platform uses a secure login system that needs two pieces of data. These are your EIN – Employee Identification Number and your USPS self-service password. You can discover your Employee ID in any of your past earning statements – look for an eight-digit number. As for the password, this is the same password you use to access other USPS online services, including LiteBlue and PostalEASE.
Forgotten passwords can be efficiently reset by clicking on the 'Forgot your password link. Alternatively, you can go to the USPS Self-Service page at https://ssp.usps.gov/ssp-web/login.xhtml to edit or reset your password. This page can also set up your password if you don't have one.
All you need to do is enter these login credentials in the fields provided to sign in. To avoid login errors, ensure you type in the correct data without leaving spaces between characters and using the correct case since the input fields are case-sensitive. Then, click on the 'Login' button.
How to View Your USPS Earnings Statements
After you successfully log into your USPS ePayroll account, you will be capable to see a list of payslips. The website database has been set up to deliver access to the last 40 earnings statements covering a period of 40 payment cycles. The statement list will show in chronological order based on their printed pay date.
Additional Pay and Deductions on Earnings Statements
In addition to basic earnings, USPS staff may accept premium pay, compensation, or allowances that cover equipment maintenance or locality pay. These are considered extra payments and can be viewed online using the USPS ePayroll portal. If you were allowed to additional payments within any given pay cycle, these will show in the relevant earnings statement under 'Additional Pay / Other Compensation.
Viewing your USPS Liteblue Payslip Statements
To check a wage Statement, simply click on a "Pay Date" Link. The USPS paystub for the selected "Pay Date" will then open in a different browser window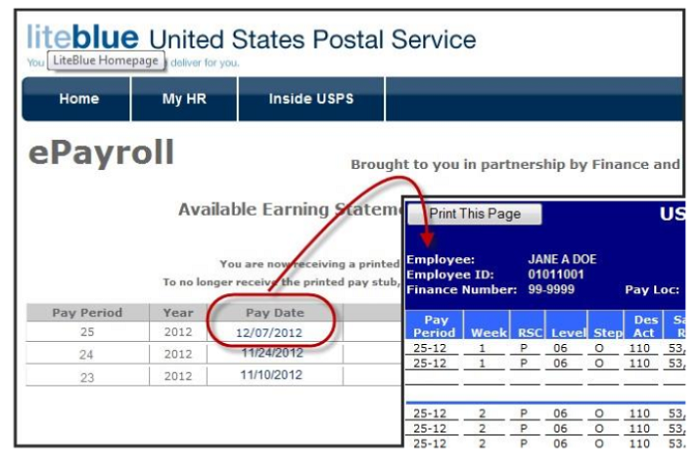 Understanding your USPS ePayroll Payslips.
Your USPS payslips/earnings statements at Liteblue ePayroll will look like this: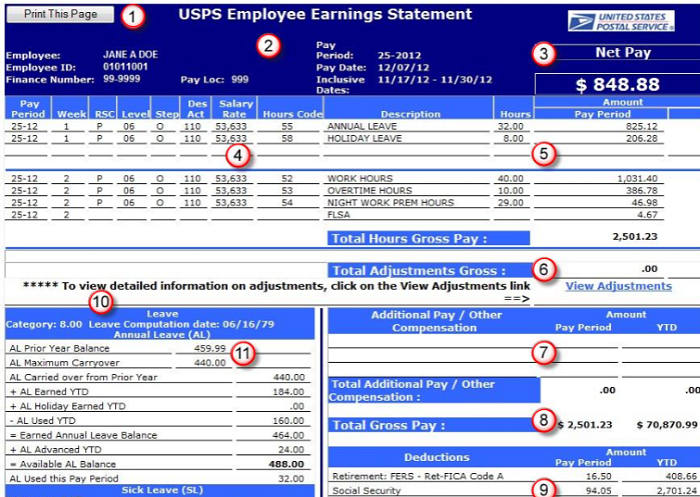 Print This Page button.
2. The Header section with USPS Employee Information:
Employee's first name, middle initial and last name.
Employee ID: Employee Identification.ç
Number Finance Number: Employee's Finance Number.
Pay Loc: Employee's Pay Location.
Pay Period: Current Pay Period.
Pay Date: Current Pay Period.
Pay Date Inclusive Dates: The 14-day period span of the pay period (Begin Date –End Date) .
3.  Net Pay:  Shown both at the top, plus bottom of this current pay period page.
4.  Detailed USPS Earnings Statement:
Pay Period: The pay period and the year for the hours being paid.
Week: Week 1 and Week 2 of the pay period being paid.
RSC: The Rate Schedule Code. Level: The level(s) the employee was paid at (base and/or higher level).
Step: The step(s) the employee was paid at.
Des Act: The employee's designation and activity code.
Salary Rate: The annual salary for full-time employees and hourly rate for part-time employees.
Hours Code: The hours code field.
Description: The full description of the hours code.
Hours: Number of hours reported for each hours code.
5. Amount: Pay Period dollar amount that has been paid for the number of hours (being displayed in the Hours column). The Total Hours Gross Pay shows all pay from the detailed earnings section.
6. Total Adjustments Gross: Shows the total gross of all adjustments processed in the current pay period.
7. Additional Pay or Other Compensation: Shows premium pay/allowances as well as other compensation, including Law Enforcement Premium (LEP), Equipment Maintenance Allowance (EMA), Locality Pay (SPA), Administratively Uncontrollable Overtime (AUO), Lock Pouch Allowance (LPA),
8. Total Gross Pay: Shows the total gross pay for the entire Pay Period, plus the total gross pay paid YTD (year-to-date).
9. Deductions: Shows a list of only those deductions that occurred current pay period earnings. The deductions will be listed in the order they were taken, with active deduction listed first, then followed by any inactive deduction segments.
10. Leave: Shown in this section is the employee's annual leave earnings category. The date is the day the employee entered into a leave earnings position with the Postal Service. Usually same as hire date unless  a casual or temporary appointment.
11. Annual Leave (AL): Shows the employee's current "Annual Leave" information.
12. Sick Leave (SL): Shows the employee's current "Sick Leave" information.
13. Other Leave: Shows the employee's special leave information for the year (if applicable).
14. Leave Without Pay (LWOP): Shows the employee's current Leave Without Pay information for the year (if applicable).
15. USPS Retirement: Shows the Yeat To Date retirement contributions plus to the Total contributions. The Total contributions amount will include all the retirement deductions for the employee (past years contributions plus the amount in the retirement YTD field).
16. FERS USPS Thrift Contributions: is only available to FERS (Federal Employees Retirement System) employees, to view the Pay Period plus the YTD agency Thrift Savings Plan (TSP) contributions. it includes the TSP automatic agency 1% contribution, plus TSP matching agency contributions.
17. Insurance Income: The value of coverage up to $50,000 is excluded from any taxation.
18. USPS Wage Statement Messages: Shows any messages with special actions taken on the currentpayslip statement.
FAQ
How do I log into LiteBlue USPS?
How do I access ePayroll USPS?
What is ePayroll for USPS?
Is there an app for LiteBlue?
How do I use LiteBlue USPS?
How do I get my USPS PIN number?
How do I find my usps LiteBlue pin?
How do you get a LiteBlue pin?
How do I reset my LiteBlue password?